Fashion Roadkill of the Day: Vol 3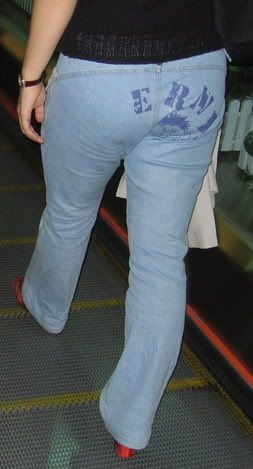 Today's Fashion Roadkill was brought to you by the letters D,U,M and B. I'm as much of a Sesame Street fan as anyone else and in fact I've been meaning to get a "Me Want Cookie"
t-shirt
but that still doesn't make me want to walk around with a huge imprint of Ernie on my butt. It's not even centred properly, but hang on if it was...that would mean innocent, lovable Ernie's face would be...no, don't even think about it!! It must be a prank played by an evil genius (masquerading as a child) who got hold of a giant Sesame Street rubber stamp and an equally giant inkpad. This is what happens when toys land in the wrong hands, people!