Fashion Roadkill of the Day: Vol 18
This year luxury brand Louis Vuitton celebrated 150 years of perpetuating the myth that style is something that can be bought. To commemorate this significant milestone, the Counterfeiters Association of Hong Kong released a special limited edition pair of pants: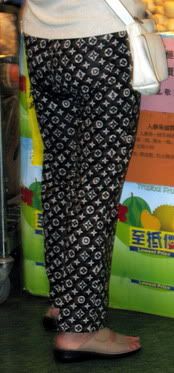 If luxury isn't standing around in a supermarket in orthopaedic sandals while holding a plastic bag of marked-down lemons, then I don't know what is. You can't fake this sort of thing, you know.
Not to be undone, the Hong Kong Society of Knock-offs came out with a collector's edition handbag.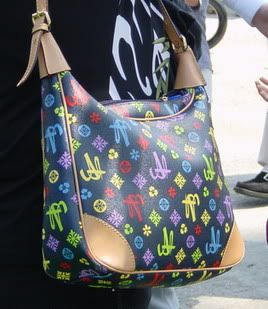 A striking design that manages to incorporate Louis Vuitton monogram as written in Sanskrit, snowflakes and three leaf clovers. A bag for all seasons and all cultures really, because as the customs officials will tell you, fake designer goods know no boundaries.
Fake is good for the budget fashion victim but nothing says "much better than good, much better than you actually" quite as much an authentic piece of Louis Vuitton leather.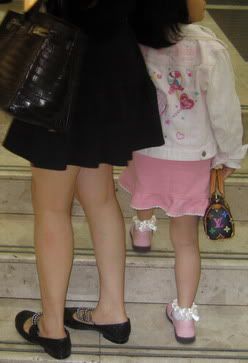 Especially when it's carried by a little girl out shopping at the mall with her crocodile Hermes-toting mother. Especially especially when the said mother is wearing a skirt so short that we can almost see where the said little girl came from.