HK Bridal Special: Chapter 5
Update: Every few hundred years, the Hong Kong wedding industry leaps forward, leaving engaged couples floundering in its wake. At long last, the fantasy of fairytale wedding is set to come alive at Hong Kong Disneyland! Have you stopped hyperventilating yet? Pass me that bag, because I haven't! There'll be horse-drawn carriages, popular mascots, familiar theme songs and like Cinderella everyone will be home by midnight! I simply MUST get invited to a Disney wedding. Even if I have to moonlight as a lesser known character like freaking Flower the skunk.
One of my favourite parts of attending any wedding is the possibility of cake. The serving of something like this:
buttercake washed with cherry liqueur syrup and layered with chocolate ganache, coffee buttercream and chocolate souffle layers
is a satisfying end to the reception, and makes me feel that my gift is well deserved. Therefore it vexes me that wedding cake providers in Hong Kong are far and few between. Many Hong Kong couples don't even bother with the niceties at all, preferring to wheel out a styrofoam dummy cake for show and tell: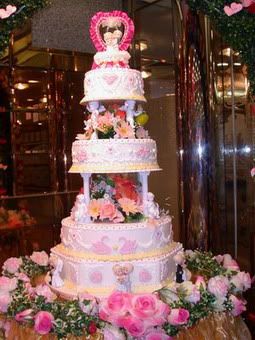 Secreted between the fake tiers is a plain white cake of white frosting with the blandness and consistency of shaving cream. Most times, it is cut into little squares and packed in little doggy bags for guests, then sealed with a special message from the bride and groom like "don't forget to validate your parking ticket". Perhaps it's because after the
decadent feasting
, the last thing on anyone's mind is cake.
When they do manage to get their act together and get a real cake, the design itself does not inspire mouthwateringness. Rather it reminds you of mass weddings and the absolute nightmare of trying to understand the seating chart: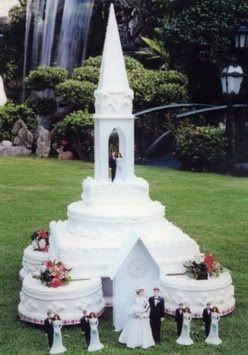 Or it reminds you of how the elevated walkways in the Central Business District connect to form a seamless, mostly air-conditioned path for the office serf: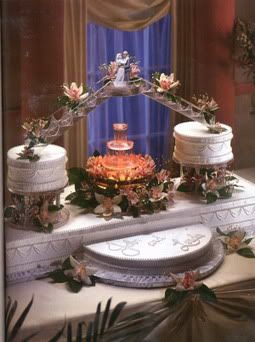 But maybe I'm being too harsh. There are HK couples who have buckets of creativity and choose to dump it all over their wedding cake. The end result is a bit of pastry emblazoned with
their photographic likeness
. It really makes the cake happen while feeding the rampant narcissism that is so common at these events.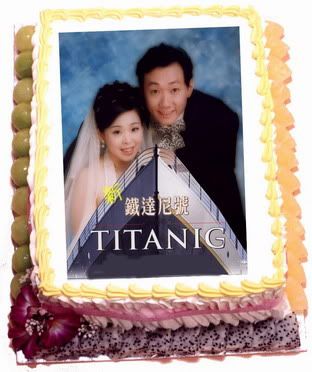 Ain't love grand.....until such time it hits a giant iceberg, causing mayhem, roiling nausea, icy grim death and large-scale devastation.