Watching each other's backs
As the weather warms up, people start heading to the beach like a pack of pasty, rabid wolves. However we must remain vigilant for the world is a dangerous place, too dangerous for the things so fragile as the human skin.
If it cannot withstand the ravages of a
makeout session with Tom Cruise
: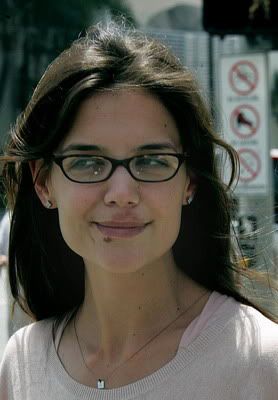 then what hope does it have against the almighty UV rays of the sun? It's well documented that the sun can damage our skin in frightening ways - wrinkles, freckles, age spots and of course the bastard melanoma. It forces us to monitor our spots religiously for deviant activity. But unless the devil has blessed you with a 360 swivel neck, you can't exactly watch your own back. The only effective way is to let others do it for you by wearing backless clothes.
Nicole Kidman (who spent 10 years under the glaring light of Tom's teeth) sets such a health-conscious example:
Her friend, actor-rapper-fashion designer-dermatologist P.Diddy is only too glad to help:
Pamela Anderson (who spent many years running in poetic slow motion on a beach) also adopts this method of sun care awareness:
As a matter of fact, it's become bare backs galore on the red carpet! With the whole world watching through hi-resolution paparazzi lens, no malignant spot, no matter how Z-list a body it belongs to, will go unmissed: