You've come a long way Katie
This morning I was happily browsing the news - oil prices lower, gold prices fall, surplus in budget, something about China/Taiwan/pro-democracy something or other, possibly pandas involved. Suddenly I reeled back in horror as a certain headline reached out and slapped me in the face. Tom Cruise and Katie Holmes? What the..who the..where the...how the..? It couldn't have been more random as Dakota Fanning (Tom's co-star in War of the Worlds) and Michael Caine (Katie's co-star in Batman Begins) hooking up. We live in interesting times indeed.
Once I calmed down and was able to cast a clinical eye over the cold hard facts, it does seem like a match made in heaven. He likes filing gay defamation lawsuits, her father is a lawyer. He's been consistently named as one of most powerful actors in Hollywood, she's been voted "Babe of the Year 98" by Expressen Fredag in Sweden. He reportedly likes women, her bust is 34C.
Katie's certainly come a long way for a girl who has the following quote in her
IMDB profile
:
"I think every little girl dreams about her wedding. I used to think I was going to marry Tom Cruise."
It all started in aisle 3 of a small town supermarket.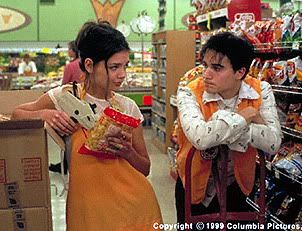 Katie: Do you think I'll ever leave this place and become a huge Hollywood star?
Co-worker: *snort* Yeah right. There's about as much chance of that happening as Tom Cruise divorcing Nicole Kidman.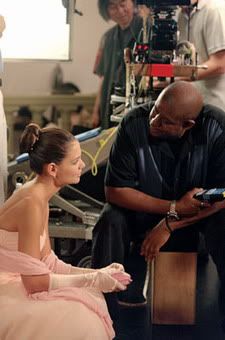 Katie: Now that Dawson's Creek has finished, how do I stay in the spotlight?
Director: Well clearly acting in decent movies is out of the question. What about having a media-friendly relationship with someone who generates the same all-American fresh-faced preppy wholesomeness as you do?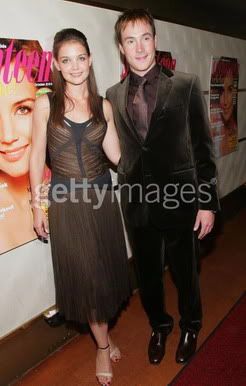 Katie: (I don't think I could ever marry someone who wears five shades of brown all at once. He has got to go.)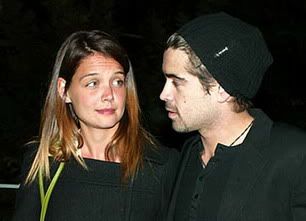 Katie: Tell me what Tom was like when you worked with him.
Colin: Tom's a really great guy. Really really nice. Always smelling so good. And he makes a damn good breakfast-in-bed. Definitely a keeper. Soft too.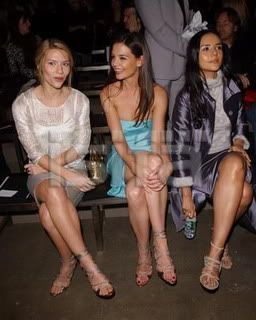 Katie: I'm so excited to be here at the Tom Cruise girlfriend auditions.
Claire: I know, I really need a hit role. I haven't been relevant in like, ages.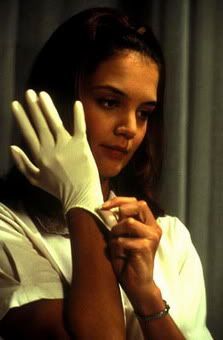 Katie: It's down to the final round. I better show Tom how much I want this job!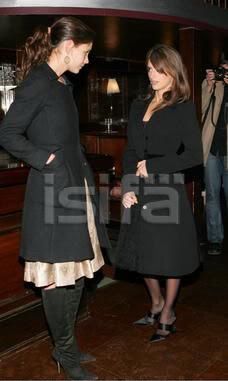 Katie: How did you ever cope? We've only been dating 2 weeks and I'm already behind in my Scientology reading!
Penelope: I know! Thank goodness I found a guy through the internet who can do all your homework for you. His rates are very reasonable.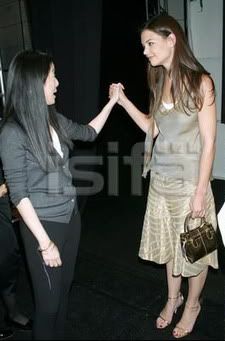 Katie: Thanks for the invite to your fashion show. Next time you can address it to "Katie" instead of "Tom's girl". I never got this much attention from you when I was engaged to Chris (Klein).
Vera: Call me, Tom's girl. I'm your new best friend!