Fashion Roadkill of the Day: Vol 12
This fall and winter season, animal prints are poised to make an even bigger than Cat Stevens, Duran Duran and the Backstreet Boys put together.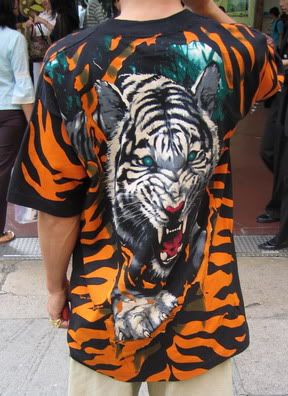 I am roadkill hear me ROAR!!! This shirt gave me such a fright that I almost started thwacking it with a microphone but then I remembered that I wasn't in Las Vegas. Currently, the tiger skin trade is illegal in Asia and it is hoped that in the near future, the tiger t shirt trade will also be given the same treatment. Obviously the wearer of the shirt feels that he shares many behavioural traits with tigers - very solitary (no friends), strongly territorial (hogs the remote control) and above all, a voracious carnivore. Oh to have made it to the top of food chain but still be a paramecium in the all-important fashion chain.
Did you know that the brown tiger is so rare that it has never been photographed, and the last sighting was in Central India several decades ago. Even rarer is the electric blue leopard which was last sighted during the 80s on a Miami yacht hunting for drug dealers with Crockett & Tubbs. Fortunately these 2 elusive and fierce members of the cat family have never come across each other because if they did, they would surely clash in the most fearsome way like the clothing on this woman.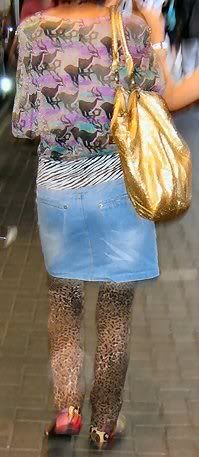 Hakuna Bloody Matata! In between the prancing reindeer featured on wrapping paper from last Christmas, the thick zebra belt wisely separated by a denim sea from the cheetah leggings and the deranged hyena flats, I don't think I ever need to visit the zoo again. The finishing touch is provided by an oversized gold vinyl bag, thereby completing the circle of suck.