Fashion Roadkill of the Day: Vol 27
Have you ever felt an affinity for a particular animal, that your life would be somehow be enriched by BEING more like that animal. Because that would explain a lot of things. Like this person's decision to buy a pair of leopard print shorts and wear them in public with anemic tails dangling down the side.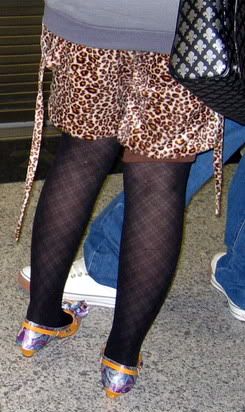 However it still doesn't explain the crisscross hose and the psychedelic flats with yellow trim. Elite think tanks around the world are still scratching their heads over that one.
There are many sites on the internet devoted to people who think that they are animals. Furries, furverts or whatever you want to label them, they're out there and they're all trying to get in touch with their inner animal. Until now I'd never actually seen one up close:
And here we have the rare pleasure of capturing for the first time on film, a human female who has reverted to her past life of a jungle cat. She is a solitary but menacing figure on the prowl. Note the high-heeled stealth and camouflaged pattern. A real man-eater. Run and hide, Mowgli the mancub, run!
My only question is: how the hell did a little grey poodle get caught up in the middle of all this?