Sly Moves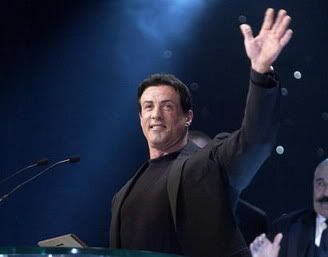 Looking to get fantastically fit this summer?
Sly Moves
, a new fitness program by Sylvester Stallone is now available for pre-order. You will learn the secrets to a better body through "Rambo pulldowns", "Rocky chins", possibly even "Tango and Cash curls" and "Stop! Or My Mom will Shoot presses".
His strict diet and exercise regime has enabled Sly to maintain peak physical condition. Arguably, he would now still be able to perform the gruelling physical shoots that made up so much of his
early film career
. Which makes sense given that customers who have pre-ordered
Sly Moves
also bought
The System: How to Get Laid!
by Roy Valentine.
Plans are underway for a separate beauty book which teaches you makeup skills such as how to use the same shade
of blush and lipgloss
as your wife.
Personally I was surprised that Sly needed to put in so much work into looking good at 58. All this time, I thought it was entirely due to good genes.