Dog treat or Chinese herb
Hong Kong is often recommended as a great place to shop for traditional Chinese herbs and medicines. For all those not yet in the know, a Chinese herb a day, helps keep the impotence away. Despite their miraculous properties, most of them look so unappetising that not even a dog would put it in its mouth. Or would it? In the spirit of the dog toy or marital aid game that has been doing the rounds, let's play
Dog treat or Chinese herb
?!!!! Can your local apothecary or Fido tell the difference?
QUESTION 1

Could it be red peony root or could it be chewy ox tails?
QUESTION 2

On the one hand it looks like Achilles tendon beef chews, on the other hand it's suspiciously similar to the rubus fructus herb.
QUESTION 3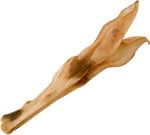 One is chewable rabbit ears (imported from Europe) while the other is balloon flower root.
QUESTION 4


Decisions, decisions...slow roasted beef liver sheet or Eucommia tree bark?
QUESTION 5
You are in a dark room. Your available choices are oven dried squid shavings or hawthorn.