Hong Kong Fashion Week Challenge
Every time Hong Kong holds a Fashion Week some foreign upstarts inevitably muscle their way in and try to show us up on home turf. Last week was no different when we were faced with the
South Korean invasion
that threatened to convert all of us into
Bae Yong-Joon's
hanbok-wearing minions.
Let's take a look at how our local designers fared in this sartorial challenge. In the left corner Korea, and in the right corner Hong Kong. Best of 3 rounds!
Round 1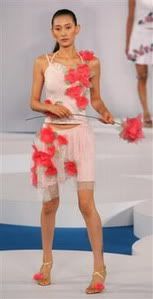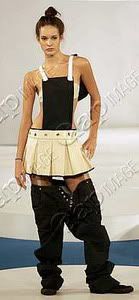 Things get off to a faltering start for the Koreans when they grossly underestimate the opposition. They think that they can just waltz in here and haphazardly applique their way to victory. How little do they know that this is nothing new for us. People wear this sort of stuff into work everyday. In contrast the unbridled ingenuity of Hong Kong manifests itself in a versatile creation. It's a pleated mini..a capelet...a pair of lowriding pants..no wait, an apron..oh I give up.
HONG KONG: 1 KOREA: 0
Round 2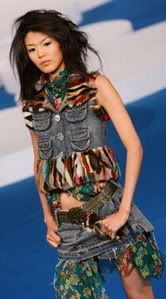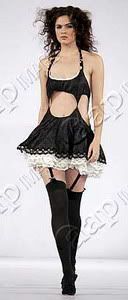 Wow, what an amazing comeback. The Koreans quickly find their footing and shine through with judicious use of denim, pickled cabbage and a shredder. Hong Kong fails to step up and instead hires an anime fanboy to churn out a terribly uninspiring costume. It does nothing for me except to get the Benny Hill theme song stuck in my head. Advantage Korea!
HONG KONG: 1 KOREA: 1
Round 3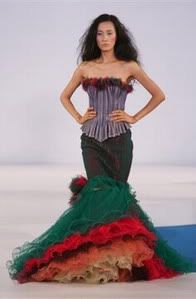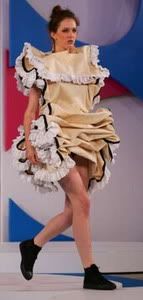 Without going into too much analysis, I think we can pretty much hand victory to Hong Kong on a platter.
HONG KONG: 2 KOREA: 1
What a struggle that was! The local talent may have won this time but we must recognise that there's still plenty of room for improvement. Their designs are certainly worthy of praise but it's not exactly Italian couture now, is it?