Get the pregnant look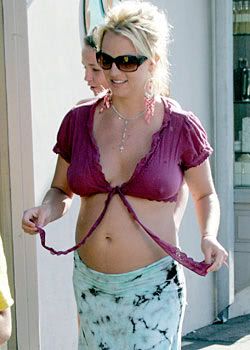 Pregnant bellies are in vogue! Whether your womb is housing a single fetus, twins, triplets or more, it doesn't matter. Sometimes you don't even have to be really pregnant - as with hair colour and designer handbags, there is always a way to
fake it
.
It's amazing to see how many celebrities and royals have latched on to this new trend. Everyday it seems there are more and more ordinary people getting impregnated to copy this popular look.
As far as maternity style goes, it's no longer fashionable to hide signs of pregnancy behind layers of chiffon, elasticised gypsy skirts and Liz Taylor's old caftans. Women are choosing to have their bloated midriffs painted by freelance Faberge egg artists and exposed for art lovers to enjoy and possibly critique.
In Toronto: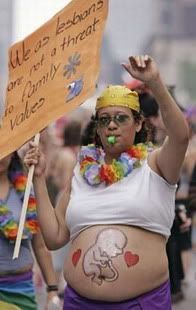 At a soccer match in Hanover: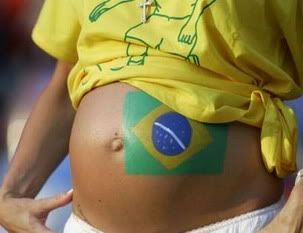 And in Beijing which recently held its first belly painting contest: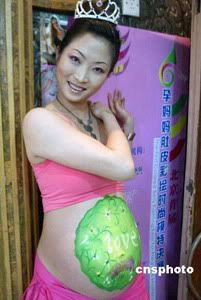 The tiara, that smile, those hands! They know not how to pose for the camera but yet they want to win this thing so bad. Then again, there are worse things than painting a giant cabbage over your unborn child, like wearing a spangly singlet and knickerbockers in your third trimester: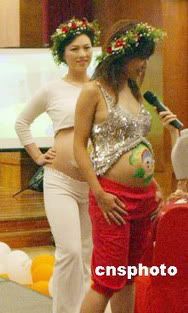 Or being contestant no. 10 who really ought to be declared unfit to dress a child.