Land of the free, home of the brave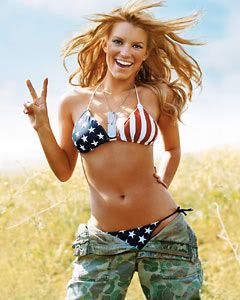 Happy Independence Day, America! Just a couple of days ago, Hong Kong also celebrated a little milestone of its own - its return to the sovereignty of China and formal establishment of a Special Administrative Region (SAR), a handy little acronym which in time would become inextricably associated with deadly respiratory disease and fake designer facemasks.
As is tradition, thousands took to the streets on SAR day, risking the glaring sunlight (sometimes even without umbrellas!) to walk the good
walk for democracy
. Your numbers may be slowly dwindling but march on, brave citizens! Never give up hope that one day we will be awash in civil rights. One day we will be land of the free, where women with taut bodies can wear bikinis AND
semi-automatic assault weaponry
.
We've got the bikinis (even if they are excessively padded in this part of the world) already and once we get "people power", we can hand out gun licenses to everyone with breasts and an acceptable hip to waist ratio. I admit that deadly firearms used to frighten me a great deal but that was before I visited the
Guardian Angel's Gun Site
. Not wanting to deal with intricate political arguments that might make me form a view on something, I bypassed the masses of text. It was a wise choice because all my concerns melted away when I saw that guns, when posed in the right hands, can be
kind of sexy
. Just a dab of anti-frizz shine serum, and we're ready for some hunting.
And
hunting away we go
! Just a tip, if you are lucky enough to live in a place which affords you such wide-ranging freedom. Pack spare separates because many a bikini top has been lost during and after the heat of the chase. Now go off and exercise those civil liberties!