Aussie oy vey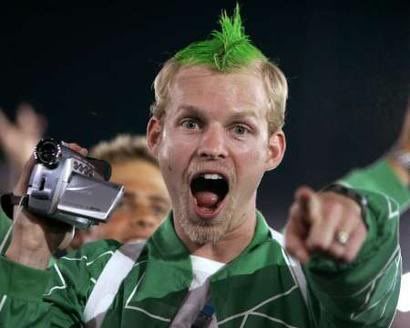 If the Olympic stadium was filled with snarky sportsfans during the opening ceremony, it would have collapsed under a thunderous groan when the
Aussie contingent
entered the arena. As one
Voguette
correctly described, the Olympic uniforms made the Aussie team look like pensioners going out to play pokies at the local RSL. In this
photo
Mark Philippoussis is thinking "thank god Delta didn't attend otherwise she would got even sicker after seeing me wear this".
Apparently nearly half of the Aussie team
skipped the opening ceremony
on the team doctor's advice but I bet it was because they took one look at the uniform and refused to leave the Olympic Village wearing it. All the more reason for the Aussie athletes to try their hardest in these games so that during the closing ceremony there will be lots of medals around their necks to take the attention away from the uniforms.
At least
one newspaper
has already decided that the worst outfit belonged to Australia. I don't understand how something that took
so long to make
and probably cost a lot of money, looks so much worse than the uniforms worn by the less developed countries. It would have been less embarrassing if they sent everyone out dressed like the
Crocodile Hunter
. The uniforms were designed by
Marc Newson
who is a wonderboy at designing objects (but obviously not apparel) and Robert Allan, a partner in the
Mooks streetwear label
. I think it's a bit lazy for the Mooks guy to come up with a boring white t-shirt - couldn't he have at least put some words on it like "Carn Aussies"?
Australian fashion designer Liz Davenport
praised the design
but if you check out her
website
, you will find that her
bland collections
are based on a 1990s fashion philosophy and she thinks it's ok for a woman to go out dressed like
this
. This is the second time Aussie designers have been disappointing this week, the first time being at the David Jones summer collection launch when someone managed to pull off the impossible and make Linda Evangelista
look like ass
.
The only other team that looked worth of snark were the Japanese who were just one big
Asian Von Trapp family
- remember that scene in The Sound of Music when Maria made the children some play clothes out of old flowered curtains? The American team went for a look that was broadly described as
urban
in a preppy Tommy Hilfiger way. I didn't understand why the word Roots was on the uniform at first, thinking it was a shoutout to Kunta Kinte. Anyway I would have preferred it if their urban look was a little bit more
ghetto fabulous
. This has nothing to do with uniforms but when the
Chinese team
came out, they reminded me of a really big
Chinese tour group
that you usually see roaming around Hong Kong.