Goodie bags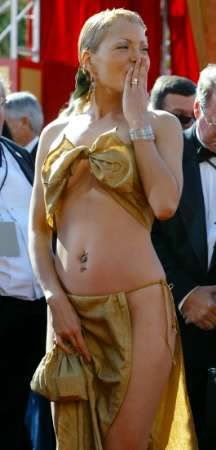 The only things that interest me about award shows like the Emmys are the embarrassing displays of red carpet fashion (as shown above) and the extravagant gift bags.
This year's official Emmy gift bag was reportedly worth about US$30,000 so I did some research and compiled a near-complete list of its contents. If you managed to get your hands on one, please let me know what else needs to be included. Remember that these bags are given to presenters and nominees so yes, even William Shatner gets one!
ACCESSORIES
Dooney & Bourke
large doctor's satchel
Luxury designer dog products from
Bella Pooch
including custom clothing and gourmet food
TRINKETS
Choice of one custom piece of gold jewelry, with or without precious stones from
Ippolita
Elini Nazar
watches (
ugh, they make "Rolex copy watch" look good
)
HOME & ELECTRONICS
38cm flat screen television
Sprint
PCS Vision Multimedia Phone MM-A700 by Samsung
FOOD AND DRINK
One kg box of
Ethel M. Chocolate
Private dinner at
Morton's, The Steakhouse
Bottle of Californian wine with an invitation for two to Napa Valley for lunch and a private vineyard tour
HEALTH AND BEAUTY
One year membership at
The Sports Club LA
A crapload of
Dior
beauty products
Day spa visits
TRAVEL
Choice of five nights accommodation at exclusive destinations from Small
Luxury Hotels of the World
(
what, no airfare, how stingy!
)
United Airlines upgrades certificates
I know what you're thinking - It doesn't look quite right. There should be more. Well of course there is, silly. Didn't I say earlier that was just the official gift bag. Will you keep up with me, here! Let me break it down for you so that you civilians (
Matt Damon's
term, not mine) can understand it better. There's also:
1. the
Buzz Bags
given a week before the awards ceremony;
2. the
Distinctive Assets
gift bags for all the nominees; and
3. the
Entertainment Tonight
after-party gift bags.
Now you too can sleep more soundly at night in the knowledge that overpaid tv stars can never be pampered enough.