Miss International
Congratulations to Ms Fu Sze Sze for representing Hong Kong at the
Miss International Beauty Pageant
and winning the
Miss Friendship title
. The judges recognised that when the going gets tough, she's the girl you can pop out the back with to have a smoke and a massive bitching session about the other girls.
Sze Sze was actually second runner up in the Miss Hong Kong contest, which means that she gets to represent Hong Kong at all the menial pageants that the real Miss Hong Kong and the first runner up can't be bothered to attend. In terms of pageant prestige, the Miss International Beauty Pageant seems to be a kind of low-rent Miss World, which in turn is a low-rent Miss Universe.
A couple of things leads us to this conclusion: (a) every second word on the
website
seems to be in inverted commas (b) there is a Miss Hawaii in addition to a Miss USA (it's like 1959 never happened!); and (c) the crown, oh god the
crown
. Not only is it encased in the red velvet and white fur trim that we thankfully only see once a year on a rotund bearded old man, but it comes attached with gigantic ribbon straps. Does she look like she is suffering from toothache or head trauma, I'll let you decide. And why is she holding up that spittoon in triumph?
Kudos to the Chinese organisers for showing that it doesn't matter what race you are or that you look good in a bikini,
everybody
needs to ordered about, screamed at, treated like a piece of meat and made to use dodgy toilets. Maybe that explains what the trophy is for, it's a portable urinal.
Next year, let's try to improve Miss Hong Kong's standing by designing her a national costume to make her stand out. This year's one was much too
conservative
when compared with the likes of these outfits which managed to be even more garish than the carpet they are paraded on:
Miss Brazil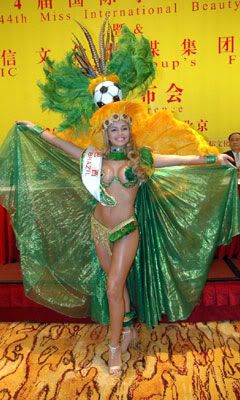 In an impressive feat of showwomanship, Miss Brazil incorporates a grand total of three soccer balls in her outfit, one for each of her past boyfriends - Ronaldo, Ronaldinho and Rico from the Copacabana.
Miss France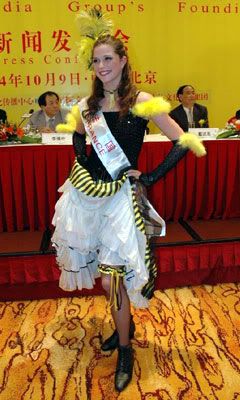 This costume indicates none of the elegant chic we have come to associate with French ladies. Rather it has the look of a horrific accident at the Moulin Rouge caused by some rascal shooting a chicken out a cannon into the burlesque performers on stage. Then when the authorities arrived on the scene, they immediately cordoned off each dancer with yellow and black striped police tape.
Miss Philippines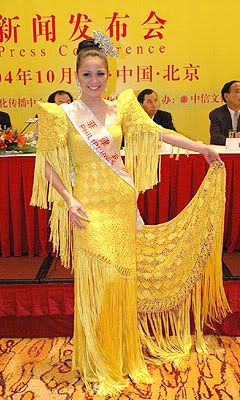 You love your grandma very much and want to make her proud don't you Miss Philippines? This is why you decided to wear ONLY her favourite long-fringed shawl to this pageant and somehow ensconced the sweet yeast bread that she so lovingly baked for you into the sleeves. What a pity Grandma won't be able to see you because the background and you have become one.
Miss Puerto Rico
Can you not see what deforestation is doing to the beautiful rainforests of Puerto Rico? This nubile wood nymph is dying, not from the lack of trees but from the embarrassment of wearing this outfit and knowing that if she makes one wrong move, she could experience a deforestation of her own.
Miss Turkey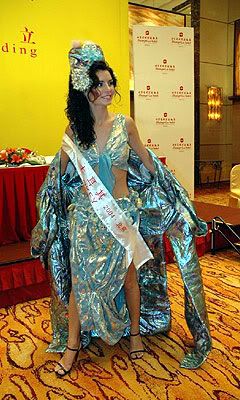 Is the economy really so bad that they have to send her out in turquoise foil, matching crepe and a golden star bow, after these items had been used to decorate a high school prom (with an Enchantment under the Black Sea theme).
Miss Ukraine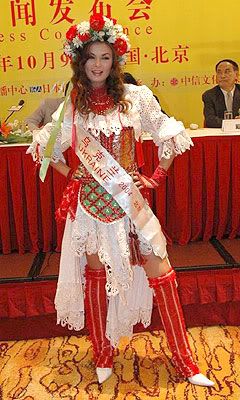 It may look unusual but this sort of costume is often worn by one of Ukraine's foremost dance troupes. The gravity-defying leaps and spins, the flips and those mazurka steps....expect all this and more from Cossacks on Crack.