Bambi With Love
I don't envy the men with high maintenance girlfriends/wives at this time of year. Scurrying about in search of a Valentine's gift that strikes the perfect chord. What a chore to find something that's romantic but not
too mushy
, something that's intimate but not
too intimate
(not safe for work).
Enter
Bambi
, a man who lets his hair grow longer than his moustache. A man who is named after a fawn destined for greatness, a stripper whose real name is Jane or both. He is a living, breathing
mission statement
whose message is definitely more opaque than clear:
The challenge is individually and collectively to awaken our true potential for goodness and greatness, and to realize that positive change begins with us. In so doing, we will find that the great heights of love and compassion engendered will infuse in us a deeper sense of caring and commitment and ultimately lead us all to a higher purpose and a grander vision - one that better serves the needs of all.
Bambi loves challenges, so much so that the special
"Challenge Yourself.." awards
he gives are designed as physical challenges themselves.
This Valentine's Day, succumb to Bambi's gold earrings and whiter than white teeth. Give the gift of...
oneness
.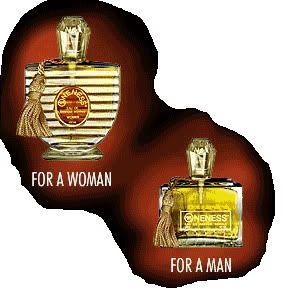 If these perfumes smell anything like how Bambi looks, then they will make your throat swell, eyes water and temples throb.
There will be the inevitable comparisons with Yanni but
Songs to Fall in Love...Again
is a completely different kettle of fish. It's tantra yoga for the ears.
Woman's Touch
is undoubtedly a standout song. To hear it the way Bambi sings it, one would think that Bambi had actually experienced it.
To all of you - parents, family, relatives, associates, friends, and to friends I've not yet met - I say, "Thank You!" For it is in this simple statement that I can truly express the feelings with which my heart overflows …Thank You for being!
With Love,
Bambi
No, thank YOU, Bambi, thank you!