Happy Chinese New Year
Wishing everybody a happy and prosperous Chinese New Year! May you have money for nothing and your chicks for free. With the way bird flu keeps flaring up here and there in the region, the latter has been upgraded from "slight chance" to "very strong possibility".
Welcoming the Year of the Cock in style is not as simple as getting a Prince Albert. Poultry headwear is a tricky area to navigate because chickens generally look better nesting in their
Eglus
or roaming free-range. Mind you, they also look fantastic served up as old-fashioned Chicken Cacciatore with a side of egg noodles.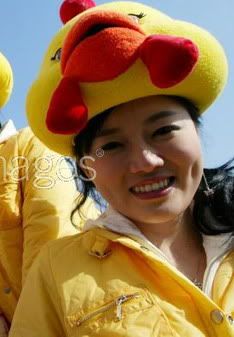 There's a certain commitment involved in wearing a turban, no matter how Sanrio its stylings may be. In the absence of harem pants, a caftan and a curved sword, the whole thing becomes a half-hearted limp-wristed token gesture.
With children, you can afford to be a little more experimental: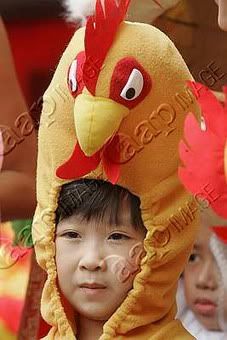 Many many years from now, he will discover this photo and scream "Muuuuuuuuuuumm!! How could you?!?!?!
If you cannot enter a doorway without the practical nightmare of decapitating your hat, then this hat is not for you. The same applies if your hat continually violates another country's airspace.
As Foghorn Leghorn would say "What's goin', I say what's goin' on here?" The hat is suitably festive but are these man's eyes and teeth even his own? Did he also borrow the gap between his teeth for effect?
To procure poultry headwear online, visit Chickenhats.com - Because life is more fun with a chicken on your head. I look forward to hearing your rebuttal statement.