Hot Careers 2005 Redux
Ever since I wrote about the thriving
baby modelling industry
, I have been besieged by parents in mainland China wanting a piece of the action. Unfortunately the market for child models isn't quite as developed as the market for
Goliath models
. Consequently the unemployment rate in this age group is high, demonstrated by the scores of children
sitting idly in baskets
and waiting to be discovered by Anne Geddes.
Up until recently, the most glamourous career that a Chinese child could hope for was an internship at a fake Gucci or LV sweatshop. Then the
ballroom dance revival
came along and swept up all the young talent. It doesn't take much investment to develop a child's dancing career. Just pirated copies of classic dance movies, preferably with entertaining romantic subplot, and a big cane.
As with any other career, except one which involves daily and most certainly nightly contact with Keanu Reeves, job satisfaction may be entirely non-existent.
This boy may be looking remarkably pissed off for any number of reasons associated with his job including:
1. having to hold a girl's hand
2. having to wear an Elvis outfit without sporting any sideburns
3. having a partner who is a wee version of Falkor the Luck Dragon
It doesn't get much better for the girls either:
Wearing a choke collar and revealing nearly all in her 1920s-style cabaret dress, a heavily made-up Yu Ying, eight, was all business as she strutted onto the dance floor in gold pumps and pushed her hips out suggestively.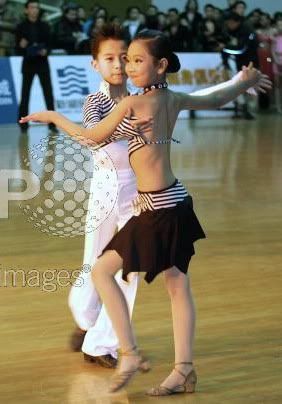 They ought to be disqualified from the competition solely by virtue of that heinosity she is wearing. Where are their parents? Are they standing proudly on the sidelines telling anyone who will listen,
that's my precious little ray of sunshine right there, sexing it up on the dance floor
. I mean, really. There's pimping your child out and then there's PIMPING your child out.