Hong Kong Popstuds
UPDATE
:
Remember the
Talking Toonie
handsfree mobile set I was going on about? So-net is quitting Asia but it's going out with a bang by selling off their cache of similarly-styled
Bon Bonn toys
. Choose from 6 weirdly named characters. The manufacturers seem to have it in for the tortoise - not only have they gone great lengths to make it look mildly retarded, but they also call it Dum Dumm. Anyway they talk, they shake their heads, what more could you ask for?
Now onto our regular snarkfest. Much has been written about the flamboyant costumes that Hong Kong popstars wear when they are performing in concerts but I don't think your eyes can ever prepared for such a spectacle. The male performers, in particular, make Cher look like a priggish Sunday schoolteacher. Just see for yourselves (click on the pictures to enlarge them).
Oh my god, a mutant mainland tourist is on the loose. Just give him all your gold jewellery and run for your lives! Watch out for his gigantic spit globules, they're acidic!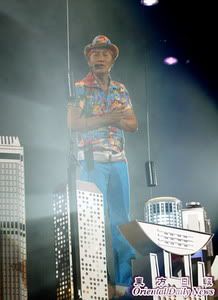 He might be getting on in years and his costume might be made out of a PVC trolley bag but he's only the person that Hong Kong can rely on to fight for truth and justice the American way.
These guys are really angry because they've just been told that due to poor ticket sales, the budget for sequins and fairy wings has been reduced.
Quick, to the Batcave! It's THE underground club of the moment. And it's mens only tonight. Whoo, I am so there!
I can't believe Ang Lee rejected me for
Brokeback Mountain
. Now I'm stuck here with Kelly Chen when I could be making out with Heath Ledger or Jake Gyllenhaal.
I inherited my grandmother's wardrobe and her talent for accessorising. However my love for pearl necklaces is entirely my own.
You can't stop the music, unfortunately nobody can't stop the music. Damn these pants are tight. I wish George Michael was here to help me out of them.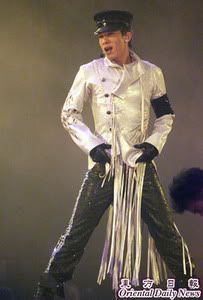 All blinged out and nowhere to go. Pimpdaddy better be
raising the red lantern
outside my house tonight or there will be hell to pay.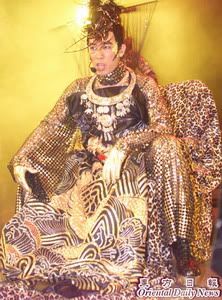 Wow, that was campier than a million rows of tents. I'd go to a Cantopop concert if I had a chance but then I'd have to pay money. And hear them sing.