Bride of Trump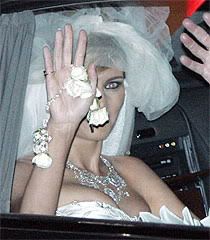 Oh for god's sake. Is it so hard to turn on red eye reduction mode. The gleaming eyes and monstrous bosom have transformed Melania into a couture-clad succubus. And she's waving her rosary in the air like she just don't care.
As a little keepsake of the Wedding of the Century, I've compiled a printable bonbonniere for everybody. Just the facts, plus a little bit more.
Something old
The groom, 57 years old, in tux, white tie and cummerbund by Brioni
Something new
Off-white and gold satin shoulderless Dior couture gown with 13 foot train and 16 foot veil, weighing 60 pounds. Required 28 seamstresses, 1500 rhinestone crystals and 550 hours of labour. Approximate cost $100,000-$200,000 minus discount for Vogue magazine promotion.
Something borrowed
Fred Leighton necklace.
Something blue
Azure coloured underwear from La Perla.
Shoes
Manolo Blahniks with diamond-encrusted ankle straps.
Second gown for the heck of it
White silk tulle goddess-style Vera Wang gown with straps.
Dress code
Black tie except for
Cameron Burnett the ring-bearer
.
Coincidental dates
Melania was baptised on same day that Donald turned 27 (give or take a few years, my maths is bad).
Rings
$1.5 million 15 carat diamond engagement ring and 13 carat emerald-step wedding band minus discount for promotional appearance on The Apprentice. Replicas available at
Bodyjewels.com
Number of crystal chandeliers in grand ballroom
Seventeen.
Flowers
White tulips, orchids, hydrangeas, snapdragons, tea roses, gardenias. Anything white that was flowering in the vicinity.
Menu
Designed by Jean-Georges Vongerichten.
Starter
: Steamed Shrimp Salad with Champagne Vinaigrette.
Main course
: Roasted Tenderloin of Beef with a Green Peppercorn Sauce and Horseradish Potato Galette.
Dessert
: Grand Marnier Chocolate sponge cake with chocolate truffle filling in the shape of a mini wedding cake.
Served on
Palladium Platinum Edge china from Tiffany. The china is a simple white color with an elegant platinum ring around the edge.
Wedding cake
5 foot high 50-pound, seven-tier orange Grand Marnier chiffon cake topped with 3,000 white-icing roses.
Wine
Magnums of Cristal Champagne, 1983, R.D. 2004, from the wine library of Louis Roederer
Classique-Montrachet, Marquis de Laguiche, 2002, a white burgundy
Chateau Lynch-Bages, 1999, Pauillac, a red Bordeaux.
Music
36 piece Michael Rose orchestra.
Tiffany
Wedding invitations engraved by Tiffany & Co.
Bridal registry at Tiffany & Co.
Name of Donald's daughter with second wife Marla Maples.
Prenuptial
Iron-clad. Like the
Massey pre-nup
, never been penetrated.
Average cost of men's haircut in Slovenia
US$10
Crude comments about Donald Trump's manhood
"It was a long one" (Kathy Hilton)
"This is not normal" (Palm Beach Police Sgt. Dan Szarszewski)
"There was a spontaneous combustion of love" (Don King)
"All I know is it's in a big box" (Mar-a-Lago butler Tony Senecal)
Should you or anybody in your circle realise that working for money is completely overrated and decide to marry your way into obscene wealth, this list will provide a useful starting point for negotiations.