Hip Temples 2005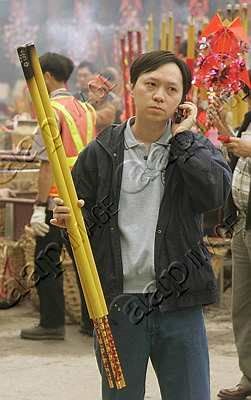 Thanks to the Lunar New Year holidays, I could really get accustomed to this 2-day working week arrangement. After all, most of the work during the week gets done on Monday afternoons, Wednesdays and Friday mornings anyway. Yes, this is something worth emailing my local legislative councillor about.
Have you ever wondered how the beautiful people of Hong Kong spend their holidays? I do, because it gives me something to aspire to. This is the time of the year where the pretty & witty & gay can cut loose and go temple-hopping. Here's a guide to the hippest temples in Hong Kong as of this moment.
Man Mo Temple, Hollywood Road
Style:
Ultra-cool urban retreat in the middle of a lively neighbourhood. A showcase of traditional elegance with the subtle colonial influences. Large spiralled incense coils suspended from ceiling create a smoky aromatic ambience.
Crowd:
Attracts a well-heeled crowd of trendy locals. Also popular with sophisticated professionals as an after work hangout.
Hip factor:
4 joss sticks. Take a spot near the bronze bell or imperial side chairs and soak up the atmosphere.
Sik Sik Wong Tai Sin Temple, Wong Tai Sin
Style:
Red pillars, a golden roof adorned with blue friezes, yellow latticework and multi-coloured carvings contribute to its old-world kitschy charm. Despite its massive prayer space and terrace areas, it is a slick operation that packs them in on weekends and Friday nights.
Crowd:
Clientele is an eclectic mix of local templegoers and curious out-of-towners. Suffers slightly from the poseur factor (watch for those who take an inordinately long time shaking their fortune sticks).
Hip factor:
3.5 joss sticks. Can gets loud and frolicsome when the worshipping gets intense.
Che Kung Temple, Sha Tin
Style:
Inspired by Japanese minimalism, its modern decor is light and airy but never cold. The fan-bladed wheel of fortune is a major drawcard for the converts.
Crowd:
This is where the young and beautifully devout go to chill. Intimate spaces and relaxed atmosphere makes it easy to linger & supplicate at length.
Hip factor:
4.5 joss sticks. A favourite with industry insiders for its unpretentious style.
Tin Hau Temple, Josshouse Bay
Style:
Located on a charming section of the shoreline in a chic fishing district. Decor is tasteful and unpretentious, with a carefully cultivated rustic feel. Low lighting contributes to the laidback praying vibe.
Crowd:
Once a well-kept secret amongst quirky believers, its reputation for a funky offbeat sanctuary has been getting noticed.
Hip factor:
3.5 joss sticks. Enjoying a resurgence in popularity since the spiritually hip have chosen to migrate here for the time being.
Po Lin Monastery, Lantau Island
Style:
Glamour, glitz, it's all here in this perennially wanky hotspot. A winning combination of dramatic architecture and sumptuous water views. Cool chants spun by house monks. Private meditation rooms available.
Crowd:
Caters for the designer moneyed set. Lots of big names in Buddhism and Taoism contribute to its exclusiveness.
Hip factor:
4.5 joss sticks. There are no lists and no ropes but when the queues form, watch out for the burly door monk.
In summary you can't go wrong with any of these classy joints. Remember, a temple offering a day helps keep the
plucked roof-crashing chickens
away.