Donate to pandas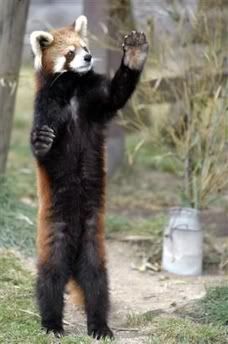 Look who's not a lesser panda anymore? This is one small step for pandas, one giant step for zoo entertainment.
When an animal can stand up on its hind legs and remain unsupported for longer than Charlotte Church, you know that something's been achieved, but you're not quite sure what exactly.
How are the greater pandas taking this astonishing development? With outward nonchalance certainly, but they're inwardly seething with envy. While the Chinese economy has surged ahead, pandas have continued to lag behind in some kind of bamboo chewing complacency. With the 2008 Olympics looming, the pressure is on to transform these duotone sloths into something presentable to the world, something not so...comatose.
And so the restructuring of the panda sector has commenced. They're cleaning up their lazy asses:
discarding the false security of their soft toys: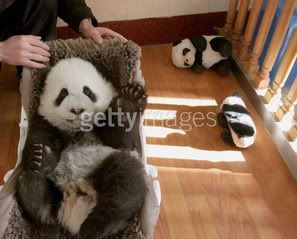 learning to count to number one: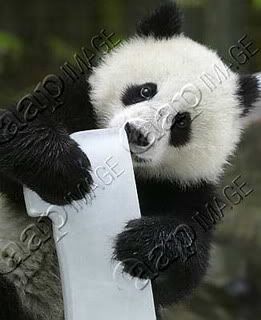 and being filmed in training montage scenes: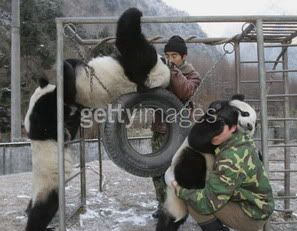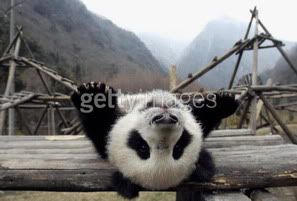 Show your support by making donations to panda protection centres today. Your money can help fund treadmills and non-detectable anabolic steroids. It will all be worth it when they walk side by side with the athletes into the Olympic stadium.
Update: The Chinese government has ordered pandas to attend mass screenings of Tom Cruise's interview with Oprah. The aim is to indoctrinate pandas on how to stand upright while proclaiming the superiority of heterosexual love
.