Stud Wars
Finally, an occasion where men judged for something other than their ability to buy hideously expensive gifts for hideously grasping women.
Don't let the
initial parade of lady cleavage
fool you, from now on it's going to be round after round of sculpted, rippling manflesh. ATV has sounded its call to battle for the
Mr Asia contest
and all the single able-bodied men over 18 had better make Hong Kong proud and enlist. The deadline is
June 3
which means there is precious little time for dilly-dallying.
According to the rules, an applicant must never conduct himself "in a manner which, in the opinion of Asia Television Limited (ATV), brings or tends to bring him, other Applicants or ATV into disrepute, ridicule or contempt", thereby ruling out all local celebrities:
Not to be outdone, rival TV station TVB has launched the
Mr Hong Kong contest
. Applicants can be as young as sixteen and they've opened the competition up wide to fathers, husbands, basically anyone who's woken up and had to change the sheets. Entries must be submitted by
May 30
which means that time is of the essence, man!
So get your paperwork in order today, you dashing cads and enter BOTH contests. Remember to include one head shot:
and one full body shot: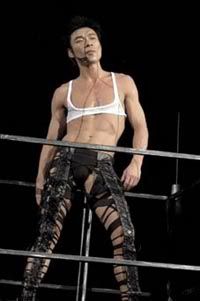 The rest they say, is up to Lady Luck and how nicely those Speedos are filled out.