HK Shopping News
To address an apparent dearth of shopping in Hong Kong, there has been a recent frenzy of new stores. I swear, everywhere I turn, there seems to be another one of those "concept" or "flagship" boutiques right there sniffing up my ass. Prada to the left! Ferragamo to the right! Many others are "under refurbishment" in order to become bigger (more space for the menfolk to sit) and better (more expensive ambient mood & sound).
The other day I took the long way to work through the newly opened
Harvey Nichols
. Unfortunately, the experience was more disappointing than the possibility that Jake Gyllenhaal might not bat for your team.
For starters there was an inordinate amount of Versace which made it look like Auric Goldfinger had, well, fingered everything in the store. There was very little that you can't find elsewhere in Hong Kong unless you count this oversized yeti bag from Pontine Paus:
Although it was indeed "the latest style" and "European", words that make rich HK housewives wet their La Perla underwear en masse, it really wasn't my style. To their credit the staff was very helpful and recommended some D&G boots instead.
There are more shoes to be found in the new Roger Vivier boutique at the Landmark. The footwear is
superbly crafted
but not meant for people who take public transport. Vivier is credited with inventing the stiletto and if you're in the market for a silk-satin knee boot embellished with crystals and whatnot, then he's your man.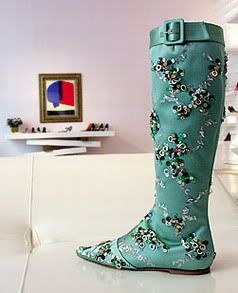 I would also like to alert you to what's happening in the Tsim Sha Tsui shopping district. There will be a new
Sogo department store
opening this weekend. It is situated near the HK Cultural Centre, HK Space Museum and HK Museum of Art, adding to the rich variety of culture and art in that area. The Hyatt Regency hotel on Nathan Road will also close in January 2006 to make way for a new shopping mall. I suspect they want to transform that strip into something classier so that when you walk along it, you will be accosted by people wanting to hawk their exclusive Patek Philippe tourbillon watches and by Italian and English tailors pimping their bespoke suits.
And finally, though our Lord has been vengeful and smote-happy in the past, and he taketh away most of the affordable eateries in the CBD, every once in a while he will also answer your prayers in the most delightful way. Be still, my beating heart.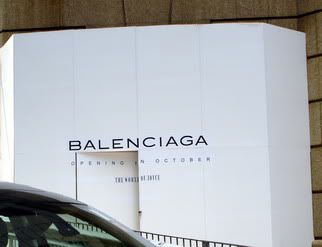 Another blog to visit: The Fash Mag Slag - The musings and observations of a gay boy living in New York City. Often imitated, never duplicated. Mmm hmm, dat's right