Burger babes
The use of hot models to promote fast food was as inevitable as the breakdown of a Hollywood marriage. Now that we're all over the whole mechanical bull being ridden in slow motion by a Maxim Hot 100 model
thing
, the next thing to watch out for is Heidi Klum's ad campaign for McDonalds. Will it combine the sensuality of her
Birkenstock ads
with the free-spiritedness of her
commemorative stamp sheet
and still be able to sneak in the words "fat free"?
In Hong Kong we've also tried very hard to recruit Canto-babes to endorse the burger businesses. Unfortunately this is the best we could come up with.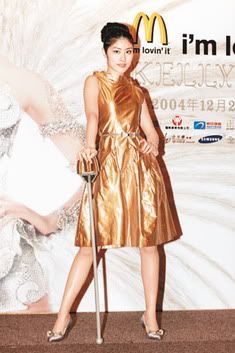 Here we have singer/actress/ Kelly Chen engaging in a little role-playing. She is clad in a gold frock that appears to have the texture of burger wrapping and is armed with a giant swizzle stick. Let me guess what her character name is. Berserker Patty? Defender of the Fries? Princess Filet-o-Dragon?
Next up is Fancl House's paragon of slim, Gigi Leung and she is quite happy, even on a makeup-free day, to be a walking advertisement for the Whopper Sandwich:
You'd think that Burger King would have picked somebody who's allowed by their handlers to eat a burger. Or eat anything even.