HK v Sydney: Branson decides
Earlier in the week Sir Richard Branson made a brief stopover in Hong Kong to promote Virgin Atlantic's new London to Sydney via Hong Kong route. From Hong Kong he jetted off to Sydney to continue the marketing blitz. Which city do you think he enjoyed more?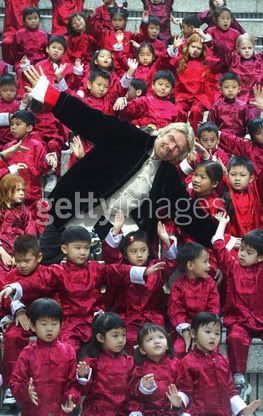 In Hong Kong, he practised inflight tai chi with a bunch of half asleep, disinterested children. The prevailing mood seems to be "care factor zero" except for one little girl who wants to know if she can have a toilet break. Tough crowd.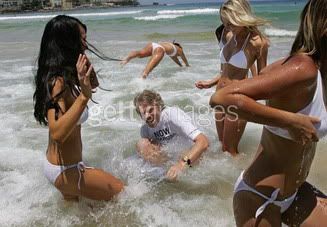 When he arrived in Sydney he discovered what Belinda Carlisle really meant when she crooned "Ooh Heaven is a place on Earth". In this
picture
I can't quite make out Sir Richard. All I can see are the incision scars from where the implants were inserted.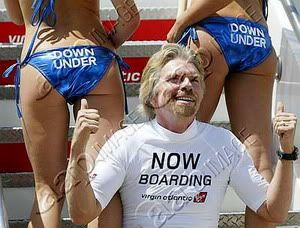 Verdict:
Two thumbs up for Sydney and thank goodness the camera pulled away before Sir Richard did his Little Jack Horner impression.
But at the end of the day, it's not about whether Sydney is an infinitely more fun place than Hong Kong. It's about how the old adage rings true. The one that says never work with children, only bikini-clad models.
UPDATE: The Asia Blog Awards have begun! Please vote for Spirit Fingers in the Best Asian Newcomer 2004 and Funniest Blog categories (voting is only allowed once per day). I promise it'll be a few minutes of your day you'll never get back.