Easy Expression
This blog doesn't give as much attention to maternity fashion as it ought to. I'm going to make a concerted effort to rectify this but I do draw the line at getting pregnant. Obviously there is a dearth of styles out there because pregnancy represents the nine months of a woman's life when she can wear anything and be described as a glowing symbol of femininity (ie a lit up mothership housing a sentient being).
In the post-pregnancy stage, convenient clothing is of utmost priority. Did you know that many a silk blouse has been ruined by a lactating mammary. That was, until the
Easy Expression bustiers
revolutionised the workplace, levelled the playing field for working mothers, all that and more. It's the Bluetooth of nursing bras! What a great day for
multitaskers
alike.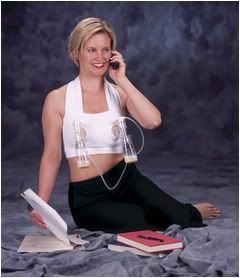 Now that her hands are free, the possibilities are endless. How many things is she doing in this picture? I can count one, two...oh I've lost count already, there must be at least 10 things going on at the same time and that's not even including the pelvic floor exercises!
One useful feature of the Easy Expression products is that they work with
most kind of pumps
. Judging from the effusive
testimonials
, they have a whole range of other benefits:
Increased productivity
I double pumped this afternoon using the halter and it was SO easy and I was able to get 2 oz. more than I normally get.
Unobstrusive
I can sit at my computer and work away, almost forgetting that I am pumping.
Sensuous
I have these too. …it is soooo soft. I love the fabric.
Sin-free
hands free pumping is heaven!
It is a true God send!
Because of the bustier's conservative cut, pumping in privacy is a thing of the past. Bring on the breakfast meetings, the powerpoint presentations, and public speaking events. But please, keep the
cow economy jokes
to yourself.