Summer Break: Paris
Desperate times call for desperate measures. Paris (the city, not the amateur porn star) is in urgent need of my diplomatic prowess so I will need to spend a week in that insufferable place. The Eiffel Tower needs to be cleansed after last Friday's farce, someone needs to shamelessly promote
Chinese cuisine
, there's the whole Olympic bid to prepare, and then there's the small problem of the
North Africans
. We can't have the latter running amok in the fashion capital, terrorising Parisians with their futuristic body armour and thigh-high boots:
It's not just the North Africans, you know. The once grand boulevards have been overrun by some rather unsavoury elements (clad in this season's fashions) such as:
Tin foil hat conspiracy theorists
Low-carb dieting zombies spreading their pacifist virus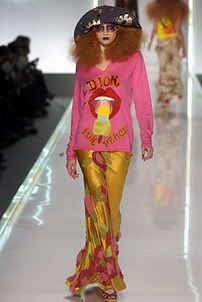 Plain ugly people, as in put a bag over your head ugly
People coming home from their regrettable one-night stands by doing the walk of shame in the morning.
Colour-blind circus performers
Homeless pregnant women with out of control flyaway hair
As you would expect, there won't be any new posts for a week since I will be busy cleaning up this scourage. This is a boon for you all, because you can focus on more appealing things like the blogs listed on my sidebar, all delectable in their own way like the 800 varieties of macaroons I will be feasting on. Au revoir and airkisses!