You Like, You Buy Vol 13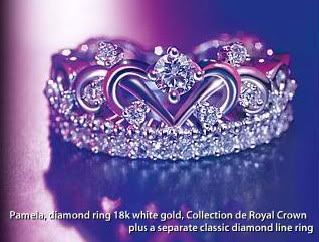 What happens to all the little girls who dream of becoming princesses? Most of them eventually grow up and become responsible adults, while the rest become VIP shoppers at Pink Box
(www.pinkbox.com.hk)
. When I first visited the Pink Box site, I knew I was going to have a lot of fun with it, and not just because of the pornesque name of the brand.
Pink Box not only makes jewellery that is all about love and romance but are keen to foist their notions of an ideal romantic relationship on us. A large part of true love apparently involves wearing a crown, which is why you will see it featured in most of their collections. The woman who fantasises about performing the traditional balcony kiss with her fair prince (who happens to look exactly like her favourite Korean or Japanese tv drama actor) on their wedding day before retiring to the royal chambers where they will proceed to make love chastely with clothes on and live happily thereafter because statistics showing that 1 in 3 marriages end in divorce, by royal decree, do not apply to royal marriages...yes this is a woman who would appreciate, or even demand, the King and Queen wedding bands.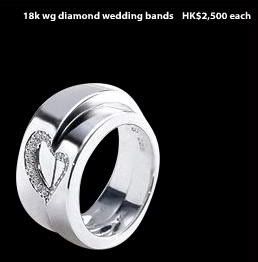 Wonder twin powers activate! Form of: a bullimic princess! Shape of: a princely tampon!
Why is it that the king's crown looks normal while the queen's crown looks a rubber kitchen glove?
Like a moth to a flame, I was drawn to the handbags and shoes: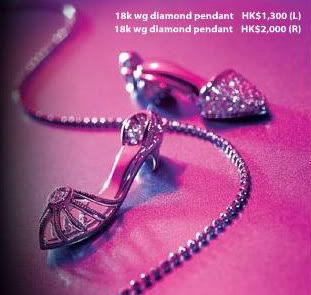 I actually quite liked this collection until I found out it was called My Nu Shoez.
A blatant ripoff of Louis Vuitton's
monogram multicolore
collection but when you think about it LV is shorthand for LOVE!
As I browsed through the site, I came across several short passages explaining the historical and cultural significance of the symbols that inspired their designs. Most times they read like a student's school report that has been plagiarised from Encarta while other times they read like
Courtney Love on a bad day
:
Solitaire diamond blossomy
Its smell is like teen spirit. Blossomy blooms in fiery sparkles with 0.25ct center stone that most of girls would like to pick one certainly.